Fair Trade + Ethical Valentine's Day Gift Guide
Valentine's Day is upon us! Purchasing a Fair Trade + Ethical gift for your sweetheart is one impactful way to show your love for them! Fall in love with our mission this Valentine's Day, and shop for gifts that empower women out of poverty.
I've put together this simple gift guide for both ladies and men! Read through this post, and then share it with your loved ones with a little *wink* *wink* at what you would like for Valentine's Day! Make the shopping easier on him. 😉
BONUS- Scroll to the bottom of the post to check out some cute style boards if you'd like some inspiration to pick out an outfit for your Valentine's Day activities!
Gifts for Her
Valentine's Day Exclusive- The Beloved Necklace
This exclusive necklace is the perfect gift for your beloved this Valentine's Day!
Handcrafted by women rescued from brothels in Asia, This necklace reminds both the maker and the wearer that they are worthy and beloved. Each piece includes a handwritten note from the artisan as her way of thanking you for the impact you are making in her life through your purchase.
The necklace features a stainless steel bar delicately engraved with the single word, "Beloved."
Available beginning Monday, January 14th and while supplies last.
Now that I've featured our gorgeous new exclusive piece, here is a list of 10 more pieces that would make the perfect gift! I tried to include something for every women's taste! I'll list their names and details below.
1. CORINTHIANS BANGLE

2. LOVE BOWL

3. LOVE HEALS SET

4. OFFER OF HOPE SET

5. NEW BEGINNINGS JOURNAL

6. PAISLEY JOURNAL

7. WORTHY NECKLACE

8. STEADFAST CUFF

9. SAMBA FRINGE EARRINGS

10. BLACK SUNDARA SET

Proclaim "Love is patient, love is kind" with this curved-edge silver bangle. Inscribed in both English and Hindi.
This dark finish wire bowl is filled to the brim with love. I think it would be so nice filled with some Fair Trade chocolates! Everyone loves chocolate! Or…. write her a bunch of love notes and fill the bowl up! She will be flattered and can be reminded of your love for her throughout the year.
Pamper yourself or gift someone with this set of all natural beauty products. Each set includes a roll-on energy essential oil, pomegranate lip smoothie, and a tea tree mint lip balm. This set is made by women in Tennessee who have survived lives of violence, prostitution, and addiction. They have been wounded and hurt but, through your purchase, are being offered a new life! The women in this job training program are proving that "Love Heals." Be a part of their healing today!
This set comes with wire-wrapped square earrings, an adjustable ring, and an adjustable cuff bracelet, so you won't even have to worry about knowing her ring size!
This light tan leather journal is embossed with a botanical pattern, holds blank artisan-made paper, and has a beautiful latch closure. You should fill it up with sweet love notes!
Give her flowers in a unique way! This fabric-covered journal holds handmade paper that has small, imprinted pieces of marigold petals. This has such a fun story, since the Hindi writing on the front tells stories of kings and queens of old. I always picture love stories when I look at it. <3
Rose Gold is so trendy, yet still timeless! Beautifully delicate in design, this rose gold plated chain displays a light pink rose quartz stone.
This beautifully hammered rose gold cuff has an open crossed design for an elegant contemporary statement. It would pair perfectly with the Worthy Necklace!
Playful maroon tassels fan out from these delightfully festive statement earrings. They would be so fun and flirty on your Valentine's Day date night!

I thought this set would be perfect to place a bouquet of flowers in the larger one, and a candle in the smaller one! She would love to come home to that on her table or even on her desk at work! It would be a unique way to give her flowers, and she could use them to decorate with for years to come!
Gifts for Him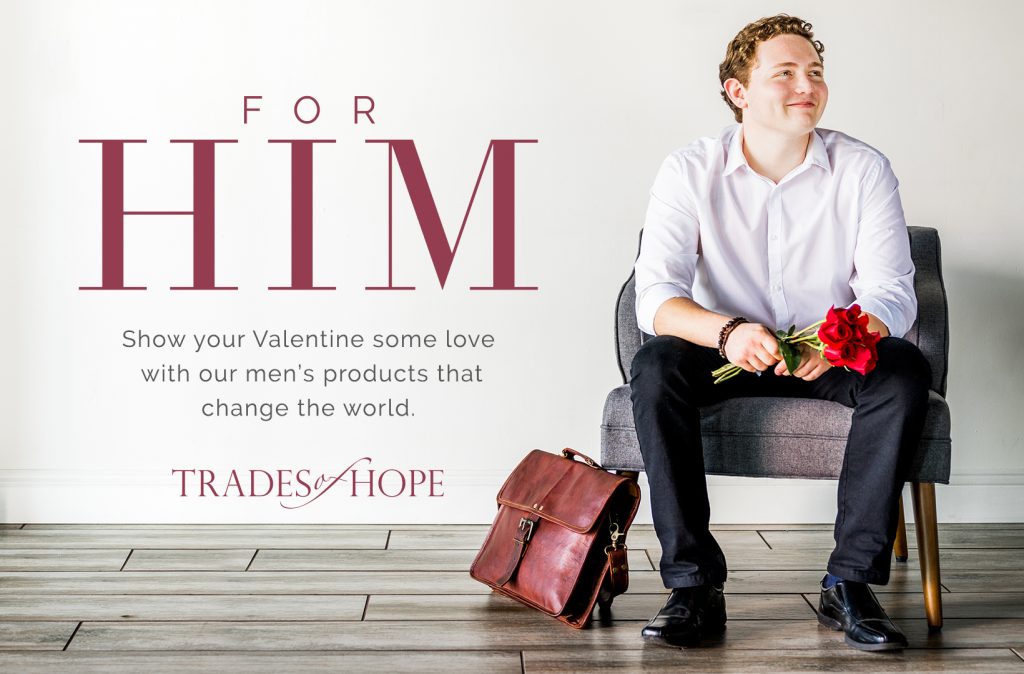 I don't know why, but for some reason it is so much harder to shop for men! Luckily we have a few great pieces to choose from!
1. ALDEN MESSENGER BAG

2. EARTHBOUND WALLET

3 EXPEDITION JOURNAL

4. LEATHER TRAVELER WALLET
This weathered leather bag features a padded computer compartment, zippered pockets, sturdy handle, adjustable strap, and buckle.
Supple black leather with tan and blue stitched accents makes this wallet an everyday essential with two bill compartments, 8 card slots, and an ID window.
Here's another journal that can be filled with love notes, a list of your favorite things about him, or even a list of date night ideas for the entire year! This embossed leather journal features a beautiful elephant in hues of beige and brown and is closed by a leather cord.

Soft, rugged leather features nine card slots, two bill compartments, and a ID window.
Bonus!- Valentine's Day Ethical Style Boards
Now for the bonus part! A couple of Fair Trade + Ethical outfit ideas you can use for Valentine's Day! Whether you're going out with your girlfriends or on a hot date, I've got you covered!
Which gifts are you going to choose for your sweetheart? Which ones will you request from your love? Share in the comments!
Be sure to Bookmark/Pin this post for later!
Is your wish list getting long? Host a party with me to earn rewards OR you can purchase all of these pieces at wholesale price, if you sign up to be a Compassionate Entrepreneur! For only $24 you can join Trades of Hope and enjoy all the perks and benefits of being a Compassionate Entrepreneur.
Have more questions about becoming a Compassionate Entrepreneur?
Read this post and follow up by emailing me at tawnyandluke@kindredmovement.com

IF YOU WOULD LIKE TO RECEIVE A NEWSLETTER WITH SALES, COUPON CODES, AND NEW PRODUCT RELEASES SUBSCRIBE HERE
JOIN MY FREE FACEBOOK GROUP TO LEARN MORE ABOUT TRADES OF HOPE! TAWNY'S TRADES OF HOPE TRIBE